Alachua County Florida Online Traffic School
Alachua County Florida Online Traffic School
Our 4-hour BDI (Basic Driver Improvement) course is designed to be not only educational but also entertaining and convenient! The education implemented into our online course is informative and useful to help improve your knowledge of driving safety and also to avoid having points applied to your driving record. The course material is mostly animations and videos so the only information you are required to read is the test questions. The material was written by professional comedians so it won't seem like you are taking a required course. Additionally, it has been designed to fit your schedule allowing you to log in and out as much as needed throughout the entire course. If you need to log out you simply click "Log Out" and when you're ready to continue just click "Returning Students Log In" and you will be taken to the place you left off. We offer 24-hour customer service and technical support if you have any questions or problems while taking our course online. After completing your 4-hour BDI course your certificate with automatically be emailed to you in a PDF attachment so you can print out your state-certified certificate and take it to Alachua County to dismiss your ticket.
If you are ready to master your online Florida ticket dismissal course, then sign up now!
Reasons to take Comedy Driving Traffic School
Flexible Schedule
Rush Delivery
Unlimited Log-ins
State Approved
Take Untill You Pass
100% Animated
Free Audio and Video
Free Certificate Download
Live Phone Support
Free Streaming Video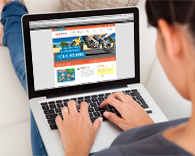 Ready to dismiss your ticket?
Social Share