Bradford County Florida Online Traffic School
Bradford County Florida Online Traffic School
Need to take a 4-Hour BDI course for Bradford County? Comedy Driving Traffic School teaches an online BDI course that is State Approved for every county in Florida to dismiss your ticket and avoid points from being applied to your driving record!
Our low price of $25 includes animated course instruction, comedy material written by professional comedians, and an automatic email of your certificate of completion you can print out after you complete the course!
I know some may think, "I'm not real computer savvy." Well, that's ok, because we have friendly highly-trained customer service representatives who are happy to assist you 24-7.
Log in and out of the course as much as you want! You can take the course all in one sitting or over multiple days if you want. Every time you log out of the course your progress is saved, so when you choose to log back into your course you will be taken right back to the point you left off!
We are also mobile compatible so you can take the course on your IPad, tablet, or smartphone! All you need is internet access and speakers!
With having the option of taking the course in the comfort of your own home, at your own pace, and when it is convenient for you, why commute to a classroom location that has scheduled dates and times?  Don't waste your time or gas, Sign Up today at comedydrivingtrafficschool.com!!!
For more information contact us by phone: 1-800-357-2020, or email us at support@comedydrivingtrafficschool.com
If you are ready to master your online Florida ticket dismissal course, then sign up now!
Reasons to take Comedy Driving Traffic School
Flexible Schedule
Rush Delivery
Unlimited Log-ins
State Approved
Take Untill You Pass
100% Animated
Free Audio and Video
Free Certificate Download
Live Phone Support
Free Streaming Video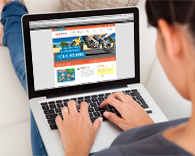 Ready to dismiss your ticket?
Social Share