Brevard County Florida Online Traffic School
Brevard County Florida Online Traffic School
Brevard County Florida ticket dismissal, If you have received a traffic ticket in Brevard County Florida, then Comedy Driving Traffic School now offers a Basic Driver Improvement (BDI & TCAC) 4-hour course just for you. Our online course is a great way to get that ticket dismissed and prevent points from hitting your record. This certificate might even assist you in lowering your monthly auto insurance rate. Our course uses videos and comedic animations to keep you awake and entertained throughout the whole course. The course covers different issues such as how to avoid distracted driving, drinking and driving, hazard road conditions, and may more driving topics. Not to mention that the laws are always changing in Florida, so it's a great way to stay updated on Florida Traffic highway laws. The registration process is simple and takes no time at all to get started 24 hours a day, 7 days a week. If you do have any problems either during the registration of the course or during the course material, there are also helpful customer and technical service representatives available to assist you at our toll-free number 713-465-0042. While you're taking this course, you can log in and out as often as needed, and at any time. This allows you to complete the course at your own pace. Once you have completed your mandated 4 hours, your certificate will be immediately ready for you to download. We will send an electronic file to the Florida Highway Safety and Motor Vehicle, but you will still need to turn the certificate of completion to the county the citation was received in. Just in case you lose your original certificate, we automatically send an email with the same certificate number to the email address you provide upon registration. All this for one low price!
If you are ready to master your online Florida ticket dismissal course, then sign up now!
Reasons to take Comedy Driving Traffic School
Flexible Schedule
Rush Delivery
Unlimited Log-ins
State Approved
Take Untill You Pass
100% Animated
Free Audio and Video
Free Certificate Download
Live Phone Support
Free Streaming Video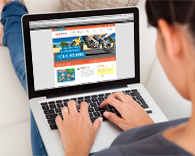 Ready to dismiss your ticket?
Social Share