Charlotte County Florida Online Traffic School
Charlotte County Florida Online Traffic School
Comedy Driving Traffic School offers the best way to take your online traffic course for Charlotte County. We present our Florida state-approved 4-hour BDI (Basic Driver Improvement) course to you for $25. This is a single charge with no hidden fees to able to print it directly from your computer. Our course is approved for your elected BDI, court-ordered BDI, TCAC (Traffic Collision Avoidance Course), and in some cases can be used to lower your monthly auto insurance rate.
Comedy Driving worked with professional comedians to keep you laughing while still learning the necessary information mandated by the state of Florida. We also have made the content accessible to you 24 hours a day, 7 days a week. You are allowed to log in and out of our course whenever you please with our simple log in process.  You can also take as much as 120 days to complete the course.  Just remember that you are usually given a deadline of either 60 or 90 days.  There are also friendly and knowledgeable customer service representatives available at all times via our toll-free number 713-465-0042. As an added benefit, we have made our course compatible with your mobile devices.  A good Wi-Fi connection is recommended of course.
Upon completion of your course, you will have access to two versions of your certificate. One will be available immediately following the completion of your class via a downloadable PDF file. The second will be emailed to you in case you're unable to print from your computer or mobile device.  Remember, for the best online ticket dismissal course experience available to Charlotte County, Comedy Driving Traffic School is the way to go!
If you are ready to master your online Florida ticket dismissal course, then sign up now!
Reasons to take Comedy Driving Traffic School
Flexible Schedule
Rush Delivery
Unlimited Log-ins
State Approved
Take Untill You Pass
100% Animated
Free Audio and Video
Free Certificate Download
Live Phone Support
Free Streaming Video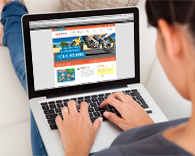 Ready to dismiss your ticket?
Social Share