Child Safety | Vehicular Heatstroke
Child Safety | Vehicular Heatstroke
Summer time is here, and so are the dreadful 100°F (& up) temperatures. A major public concern during hot summer days is the endangerment of children being left inside cars. This issue is a leading cause of heatstroke deaths among children. During this time of the year Kids and Cars, as well as other public awareness organizations, strive to spread their message and save as many lives as possible.
Kids and Cars, report that on average every 9 days, at least one child in the United States suffers a heatstroke. This adds up to an average total of 38 child deaths per year.
There are no excuses for a child left behind inside a hot vehicle; even just a few minutes, is one more child exposed to unrepairable neurological effects or death. Safer Car confirms that a child's internal body temperature increases 5 times faster than an average adult and many times more susceptible to heatstroke. Outside temperatures of as low as 57° F are proven to be dangerous, as temperatures inside a vehicle rise in a matter of minutes.
The Weather Channel proves that internal vehicle temperatures rise on average 20°F within 10 minutes. Leaving the window or sunroof cracked, does not help reduce the internal temperatures of a vehicle by much. It makes little to no difference at all when a child is inside the vehicle.
A tip of advice, make it a routine to double-check your back seat, even when your child is not with you. Create a reminder system that works for you to remind you that you have your child with you. Some examples are placing something that you will also need to get off the car such as a cell phone, purse, backpack, wallet, or briefcase in the backseat near your child's car seat. That way you will be forced to check the back seat before walking away from your vehicle. Make no exceptions at all, when it comes to leaving your child unattended in a vehicle. Remember, every minute can make a difference in your child's life.
Reasons to take Comedy Driving Traffic School
Flexible Schedule
Rush Delivery
Unlimited Log-ins
State Approved
Take Untill You Pass
100% Animated
Free Audio and Video
Free Certificate Download
Live Phone Support
Free Streaming Video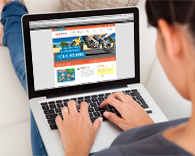 Ready to dismiss your ticket?
Social Share