Citrus County Florida Online Traffic School
Citrus County Florida Online Traffic School
We all know that Citrus County is home to the Gulf Coast Manatees, but did you know that it is also home to the newest and funniest alternative online 4 Hour BDI Courses. Comedy Driving Traffic School offers a BDI (Basic Drivers Improvement) class that is approved by the state of Florida to help dismiss a ticket you may have received. Our online traffic school may also help with a possible monthly auto insurance rate discount. Simply call your insurance providers to see if you are eligible.
With a one-time payment of $25 (no additional or hidden fees), you are given access to our course 24 hours a day, 7 days a week. Not only can you start this course whenever it is best for you, but you're able to log in and out at any time of day and as many times as needed. As you advance through the course your progress is also saved. When you decide to log back in you will be taken back to the last page you were on. If you do experience any problems while taking the course, we have knowledgeable and friendly customer service representatives available. Simply call 713-465-0042, and there will always be somebody there to help you.
Our course consists of comedic animation and informative videos and is also compatible with most mobile devices. So fire up that tablet or smartphone and prepare to laugh! Once you have completed our course your certificate is available immediately. Don't worry if you're unable to print it right away because an e-mail will also be sent to you.
If you are ready to master your online Florida ticket dismissal course, then sign up now!
Reasons to take Comedy Driving Traffic School
Flexible Schedule
Rush Delivery
Unlimited Log-ins
State Approved
Take Untill You Pass
100% Animated
Free Audio and Video
Free Certificate Download
Live Phone Support
Free Streaming Video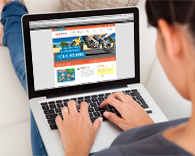 Ready to dismiss your ticket?
Social Share