Clay County Florida Online Traffic School
Clay County Florida Online Traffic School
Have you received a ticket citation Clay County but don't think you have the time to complete your 4hour BDI (Basic Driver Improvement) course.  Comedy Driving Traffic School is here to enlighten you on the simple and convenient online Florida ticket dismissal course that we offer. First, our course is $25 and this includes an immediate certificate and an e-mail copy with no hidden fees immediately after the course is completed.
We know there so many things that take your attention away from a computer (work, kids, and that daily commute). That is why we have put together this course and created an enjoyable and convenient online traffic school. Our course starts off with a simple registration process in which we obtain the necessary information to assist you during your class.  This will include your county the citation is from, citation or case #, name, DL#, and of course basic login information.  Once you are done you can start the course right away. We have made our course simple to navigate, and give you the ability to log in and out at your convenience. This means you don't have to sit down to complete this all at once, and can complete the course whenever you wish.  Mobile devices are so common now that we have made our course mobile device compatible so you can sit back; relax in your favorite seat in the house, or the comfort of your bed.
If you have any questions, you can contact us at 713-465-0042 and if you are ready to master your online Florida ticket dismissal course, then sign up now!
Reasons to take Comedy Driving Traffic School
Flexible Schedule
Rush Delivery
Unlimited Log-ins
State Approved
Take Untill You Pass
100% Animated
Free Audio and Video
Free Certificate Download
Live Phone Support
Free Streaming Video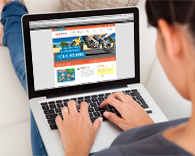 Ready to dismiss your ticket?
Social Share