DeSoto County Florida Online Traffic School
If you recently drove through the county of Desoto and received a traffic violation, then we may be able to help you out! Comedy Driving Traffic School has helped thousands of individuals like you dismiss that ticket, and those same individuals have been able to lower their monthly auto insurance rates by simply taking our course.
We are state approved by the Florida Highway Safety and Motor Vehicles Department to teach the 4 hour BDI (Basic Drivers Improvement) course. With a one-time payment of $25 (no hidden fees) you are on your way to keeping a clean driving record. Our course is accessible 24 hours a day 7 days a week. This means you can log in and out of the course when you need to and you can complete the course at your own pace. Your progress is saved as you proceed through the course. That way when you log back in you are taken to where you left off.
We have also designed a mobile device (Smart Phone and Tablet) compatible version of our course. We recommend that you have a good Wi-Fi connection. If you happen to experience any kind issues while taking the class, just contact us at 1-866-357-2020 and one of our friendly and knowledgeable customer service representatives will be happy to assist you.
Once you complete the course your certificate is processed instantly and you can print it immediately from your computer. If you are using a mobile device or are unable to print the certificate upon completion there is nothing to worry about. You are also e-mailed the exact same certificate, so you can print it when you are able to do so.
If you are ready to master your online Florida ticket dismissal course, then sign up now!
Reasons to take Comedy Driving Traffic School
Flexible Schedule
Rush Delivery
Unlimited Log-ins
State Approved
Take Untill You Pass
100% Animated
Free Audio and Video
Free Certificate Download
Live Phone Support
Free Streaming Video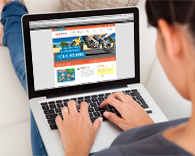 Ready to dismiss your ticket?
Social Share