Dixie County Florida Online Traffic School
Dixie County Florida Online Traffic School
Comedy Driving Traffic School's 4-hour BDI (Basic Drivers Improvement) course is now available for residents and visitors of Dixie County. Whether it be Old town, Cross City, or anywhere in between or around the county we are here to help dismiss that citation. You might even be eligible for an auto insurance discount as well.
We have worked tirelessly with professional comedians to create an innovative and resourceful course to accompany the mandatory informational lessons. This way you can have a little laugh and learn something as well. We have made our course accessible to you 24 hours a day 7 days a week, as well as give you the ability to log in and out of the course whenever you need it. Your progress is saved as you move forward through the course. This allows you to complete the course at your own pace.
Our online Florida traffic school is also compatible with your mobile devices (Smart Phones and Tablets) that have access to a Wi-Fi internet connection. It is recommended that if you take this on a mobile device that you have a secure and strong connection to the internet. If you happen to run into any technical issues then there is always a knowledgeable and friendly customer service representative available to assist you at 713-465-0042.
After you have completed the course you will be able to print your certificate immediately. You will also receive an e-mail with the same certificate to keep for your own personal records. Remember, you get all this and more, for the low price of $25.00 with no hidden fees like the other courses. So remember, for the best humor and education allowed while taking an online ticket dismissal course www.ComedyDrivingTrafficSchool.com is where you need to go.
If you are ready to master your online Florida ticket dismissal course, then sign up now!
Reasons to take Comedy Driving Traffic School
Flexible Schedule
Rush Delivery
Unlimited Log-ins
State Approved
Take Untill You Pass
100% Animated
Free Audio and Video
Free Certificate Download
Live Phone Support
Free Streaming Video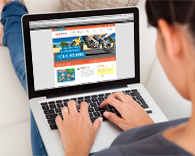 Ready to dismiss your ticket?
Social Share