Driving at Night
Driving at night means reduced visibility and that motorists cannot see as far ahead and to the side while driving compared to day time hours.  Reduced visibility can increase the risk of more accidents involving pedestrians, bicyclists, and other motorists.  It is very important for other drivers to be able to see you while you are on the roadway so make sure both headlights are working properly.
Driving with one headlight could easily cause other motorists to misjudge your distance and speed by giving them the impression your vehicle is a motorcycle.
High beam headlights should only be used in clear weather when it is dark outside.  It is not recommended to use your high beam lights while it is raining, foggy outside, or snowing.  If high beam lights are used in this type of inclement
weather the driver of the vehicle could become blind; this is caused by the high beam light reflecting back to the driver.  It is also recommended to shut off the high beam lights when there is another vehicle approaching you from the opposite direction within 300-500 feet.  If you are approaching a motorist who does not shut off their high beam lights simply adjust your vision to the side of the road to avoid the brightness and pay close attention to the roadway.
High beams can also be a nuisance for motorists when there is an approaching vehicle from behind with them activated.  The high-intensity lights can reflect from the rearview mirror or the side view mirror.  Drivers can simply adjust the mirrors to a position where the lights are not a nuisance but it is important to remember to align the mirrors back to their original position once the lights are no longer causing a distraction.
Drivers must be cautious when using their high beam lights to ensure not to blind their fellow motorists.  Staying safe on the road is the most important rule for any driver.
Reasons to take Comedy Driving Traffic School
Flexible Schedule
Rush Delivery
Unlimited Log-ins
State Approved
Take Untill You Pass
100% Animated
Free Audio and Video
Free Certificate Download
Live Phone Support
Free Streaming Video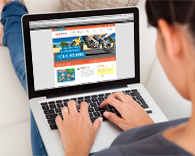 Ready to dismiss your ticket?
Social Share