Duval County Florida Online Traffic School
Are you looking to find a Florida Online Traffic School that is State Approved for a ticket dismissal in Duval County? Well look no further, Comedy Driving is the online course for you!
Want to experience a fun an informative Florida state approved online traffic school? Then Comedy Driving Traffic School has such a course just for you. Our class was created with professional comedians to help you enjoy yourself while dismissing your ticket.
All you need to get started on the registration is to know the reason you are taking this course, your driver's license #, county you received the citation in, and of course yourself. If you happen to experience any issues during the registration or at any time, simply contact one of our knowledgeable representatives at 1-866-37-2020. We are here to assist you 24/7.
While taking our online 4 hour Traffic School you are able to log in and out of the course an unlimited amount of times. You are also able to take this at any time of day or night. You can even take as much as 120 days to complete the course. Don't wait too long of course because the certificate of completion is due back usually within 60 to 90 days to the county where the ticket was received. The certificate is also downloadable at the end of the course as a PDF document and can be printed. You also receive an email with the same file so you're able to print your certificate at a later time.
If you are ready to master your online Florida ticket dismissal course, then sign up now!
Reasons to take Comedy Driving Traffic School
Flexible Schedule
Rush Delivery
Unlimited Log-ins
State Approved
Take Untill You Pass
100% Animated
Free Audio and Video
Free Certificate Download
Live Phone Support
Free Streaming Video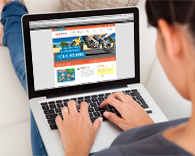 Ready to dismiss your ticket?
Social Share