Emotions & Road Rage
Have you ever been in a situation where you felt another driver was acting too aggressive and speaking threatening words while driving?  Many people do because certain motorists cannot control their emotions behind the wheel.
Examples of what can cause a person to lose emotional control while driving are: running late for an appointment, hungry and behind the wheel, children getting on your nerves, all the traffic lights are red and the same person just cut you off two times.  Emotions can make a driver react to traffic conditions in irrational ways.  People can lose control easily and this can be dangerous because it may lead to road rage.  Road rage can land you a ticket or worse cause an injury to yourself or others that could have been avoided.
Motorists should learn to recognize behaviors and try to avoid them as best they can.  Here are some simple methods to help inhibit road rage.
Leave early to avoid heavy traffic.
Ignore the angry person beside you
Get out of the way of a mad driver
Stay calm and keep a level state of mind
If someone makes you mad, remember the negative consequences.
Reasons to take Comedy Driving Traffic School
Flexible Schedule
Rush Delivery
Unlimited Log-ins
State Approved
Take Untill You Pass
100% Animated
Free Audio and Video
Free Certificate Download
Live Phone Support
Free Streaming Video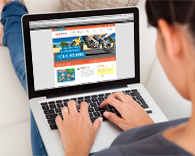 Ready to dismiss your ticket?
Social Share