Escambia County Florida Online Traffic School
Escambia County Florida Online Traffic School
Were those white powdery sand beaches of Pensacola calling to you recently? Were you unfortunately given a traffic citation while on your way there or while heading home? Comedy Driving Traffic School is here to assist you in dismissing that citation, and keep any points from going on your driving record. Our 4-hour BDI (Basic Driver Improvement) course is not only approved for elected BDI, but also for a court-ordered BDI, TCAC (Traffic Collision Avoidance Course), and even to possibly lower your monthly auto insurance rates.
Comedy Driving also worked with professional comedians to ensure that our animations throughout the course keep you laughing. When you are enjoying learning, it has been proven that you are more likely to retain that information. We've also made our course simple to navigate, given you the ability to log in and out of the course 24 hours a day / 7days a week, and complete this course whenever you need to. Not to mention, if you happen to have any issues while taking the course there is an experienced and knowledgeable customer service representative available at all times as well at 713-465-0042.
Once you complete our course your certificate is processed instantly and you print it immediately from your computer. You will also receive an email of the same certificate for you to print if you are unable to print upon completion of your course. So get out there and enjoy all that Escambia County has to offer, and know that ComedyDrivingTrafficSchool.com we will be here whenever you need us.
If you are ready to master your online Florida ticket dismissal course, then sign up now!
Reasons to take Comedy Driving Traffic School
Flexible Schedule
Rush Delivery
Unlimited Log-ins
State Approved
Take Untill You Pass
100% Animated
Free Audio and Video
Free Certificate Download
Live Phone Support
Free Streaming Video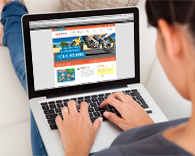 Ready to dismiss your ticket?
Social Share