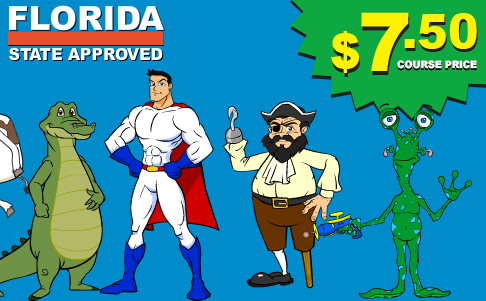 Florida Online Traffic School
100% Animated Online Class
Comedy Driving Online Traffic School's course is online course is only $7.50 (plus state processing fee), and is all inclusive. There are no hidden fees. The course is 100% animated with free audio, free video, and your certificate will be available for immediate download.
Florida Online Traffic School
This Florida Online Traffic School is one of the most convenient methods allowed by the Florida Department of Highway Safety and Motor Vehicle (FLHSMV) to complete the necessary traffic school online. This course has been developed for Florida as a method of convenience and it's a modern way to keep up with the demand of technology. Though the courses maybe regarded as inconvenient, they are meant to instruct motorists about navigating through highways and streets in a safe manner. The online courses have been around for many years and have great advantages and benefits over the
24 hour availability. There is no reason to wait to take the course, especially if there is a No need to drive anywhere to take the class. As long as there is internet access the course isavailable anywhere there is an internet connection

The completion of the course is reported to FLHSMV. Once the course is completed the information is reported to the state within 24 hours. It is still the students' responsibility to contact the county clerk or the state and inform them the course has been completed.

Free download of the certificate. Immediately after the course is completed students are able to download a copy of the certificate and there is a PDF copy e-mailed to the student as well.

Ability to log in and out of the course. There is no need to rush to complete the course. Users can log in and out an unlimited number of times and are given 120 days to complete the course.
These are just a few reasons the course is great for those looking to take the course online, but if you still need more reasons remember:
The class is only $25.00 with no hidden fees.

There are no canceled classes for the online course.

24 hour customer support is available.

There is no need to download any software.

The course is also compatible with most android and Apple devices.
Our entire course is 100% animated and videos, which is more animated than any other online course.