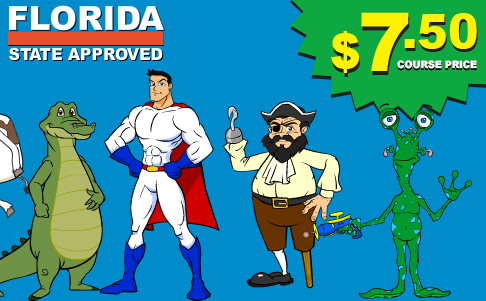 Florida Ticket Dismissal BDI Course
Online Driving Traffic School
Comedy Driving Online Traffic School's course is online course is only $7.50 (plus state processing fee), and is all inclusive. There are no hidden fees. The course is 100% animated with free audio, free video, and your certificate will be available for immediate download.
Florida Ticket Dismissal BDI Course
Motorists in Florida may be ordered by the county court to take traffic school after receiving a citation or they may be given the option to complete the course.  What is the difference between Court Ordered and Student Elected?  The answer is none, Court Ordered and Student Elected courses are all the same class.  With either course, the class has to be 4 hours long and it must be approved by the Florida Highway Safety and Motor Vehicles Department.  The content requirements for either course are the same and it must pertain to driver improvement.  The difference between the two is simply the reason some one must take the course. 
All these individuals are given between 60 to 90 days to complete a course and prevent further actions from the county in which the ticket was given or the FLHSMV.
Here are some reasons to take the class:
Good refresher course for most drivers.

Educational

Up-to-date course.  Has new information regarding laws or revisions to current law. 

Keeps points off a driving record.

In some instances it will help lower insurance rates.
Furthermore, not taking the course can cause an individual to have their license suspended and incur further fines.   Additionally, the individual will accumulate points on their state driving record and cause their insurance rates to increase if the course is not completed within the given deadline.  In the end, the student may not be given any option but to complete the course so their driver's license can be reinstated.  Those with questions regarding the state of their driver's license should call the local county office or the FLHSMV.
Our entire course is 100% animated and videos, which is more animated than any other online course.