Glades County Florida Online Traffic School
Were you recently given a speeding ticket or failure to stop ticket in Glades County?   Were you given the option to take a BDI (basic driver improvement) course to help get the ticket dismissed? Well Comedy Driving Traffic School is the route you would want to go. Our course is only four hours long, with a low price of $25. When signing up it's really fast and easy.  If you were to have any questions please feel free to call us at any time on our toll-free number 1-866-357-2020. We have customer service representatives and technical support representatives available twenty-four hours a day seven days a week.
Our course is compatible with many different devices like a smartphone, desktop, tablet and a laptop; simply make sure you have a good internet connection. The class is designed to help you with improving your driving skills, so it's also very informative and funny at the same time. You are not required to take the course all in one sitting.  We give you the opportunity to log in and out of the course as many times as u need to without losing your spot.  Another great benefit is that with our course also gives you the opportunity to take the final exam as many times as you need to until you pass it. Once you pass it, you will be able to download and print out your certificate right away. Don't hesitate to sign up right away! It's an experience you won't forget.
If you are ready to master your online Florida ticket dismissal course, then sign up now!
Reasons to take Comedy Driving Traffic School
Flexible Schedule
Rush Delivery
Unlimited Log-ins
State Approved
Take Untill You Pass
100% Animated
Free Audio and Video
Free Certificate Download
Live Phone Support
Free Streaming Video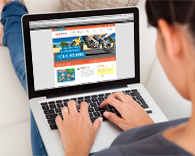 Ready to dismiss your ticket?
Social Share