Hardee County Florida Online Traffic School
Hardee County Florida Online Traffic School
Did you receive a ticket in Hardee County, and now you are on a time crunch to complete the 4-hour BDI (Basic Drivers Improvement) course? Then look no further, Comedy Driving Traffic School is here with the most convenient and hilarious way to dismiss that citation, and possibly receive a lower auto insurance rate.
Our course is 100% audio/visual with whimsical animations and informative instructional videos. The registration is quick and simple, and with a one-time charge of $25 there is no need to worry about hidden fees. We have made it easy for you to log in and out of the website so you can complete the course at your pace. Your progress is also saved as you move forward through the class.  As you advance through the course and select the "Next" button your work is automatically saved for that page.
This online ticket dismissal course is even mobile device (Smart Phones and Tablets) compatible. That means as long as you are connected to a Wi-Fi network you can take this course where ever you please. If you happen to run into any issues you can contact us at 713-465-0042, and one of our knowledgeable and friendly customer service representatives will be there to assist you 24/7.
After you complete the course you will have the ability to print out your certificate of completion immediately via a PDF file. This same file will be e-mailed to you just in case you are unable to print the certificate the first time. Don't forget to turn this into the county clerk or DMV and verify they have received notice of the completion. Remember, when taking a traffic school course, Comedy Driving is the most fun allowed by law. You might even learn something too!
If you are ready to master your online Florida ticket dismissal course, then sign up now!
Reasons to take Comedy Driving Traffic School
Flexible Schedule
Rush Delivery
Unlimited Log-ins
State Approved
Take Untill You Pass
100% Animated
Free Audio and Video
Free Certificate Download
Live Phone Support
Free Streaming Video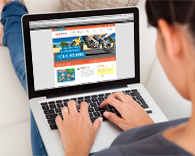 Ready to dismiss your ticket?
Social Share