Hernando County Florida Online Traffic School
Hernando County Florida Online Traffic School
Are you looking for a funny Florida Online Traffic School that is state-approved for ticket dismissal? Well look no further! If you live in Hernando County, Florida you have come to the right place.
Comedydrivingtrafficschool.com offers a 4-hour BDI (Basic Driver Improvement) course that is designed not only to educate drivers but is also funny and very convenient!
The online course is available to all Hernando County residents 24 hours a day, 7 days a week. You can start the signup process at any time by clicking on the tab, "Online Course Sign Up." Once you complete the five-minute registration, you will be able to log in and out of the course as many times as you need to. Utilize the user name and password created during the signup process to come and go as you please. The course contains a total of 4 hours of education, and keep in mind that there is no need to complete the course in one sitting. The course is flexible to your schedule and you have the option to finish the course at your own pace during any time of the day you choose. The course is approved by the state of Florida. Additionally, after you complete the course your information is sent to the state electronically.
Even if you do not have a ticket that needs to be dismissed in court, you can take the course for insurance purposes to receive a possible discount on your monthly car insurance rates. You can take the course with friends and family members to share the laughter and inform them of the importance of driving safety.
If you are ready to master your online Florida ticket dismissal course, then sign up now!
Reasons to take Comedy Driving Traffic School
Flexible Schedule
Rush Delivery
Unlimited Log-ins
State Approved
Take Untill You Pass
100% Animated
Free Audio and Video
Free Certificate Download
Live Phone Support
Free Streaming Video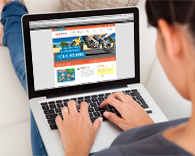 Ready to dismiss your ticket?
Social Share