Hillsborough County Florida Online Traffic School
Are you looking to find a Florida Online Traffic School that is State Approved for a ticket dismissal in Hillsborough Count? Well look no further, Comedy Driving is the online course for you!
Have you recently received a ticket and are in need of a Florida State approved Online Traffic School Course? Our Online course is a fun and educational way to get your ticket dismissed. Our online course is taught using animation and videos, with hardly any reading to do at all.
With most people in today's world having busy-always on the go lifestyles, who has time to sit in a classroom for 4 hours?  Our course can be accessed from almost anywhere that has internet access.  Whether you are sitting on the toilet, lying in bed, traveling, or even while at work, you can be taking the course. You can simply log in to our website on your mobile device, tablet, or your home desktop.
All you need to is go to our website Comedydrivingtrafficschool.com, click on the green "online course sign up" button, register and then begin.  When you start to register, you will be asked to enter your citation information so that it can be printed on the ticket once the course is completed.  Be sure to enter the information correctly so contact your court if you have any questions.  Upon completion of our course your state certificate will be available right away for you to print. After that, just take the certificate to take the certificate back to where it is due and the adventure is over.
If at any time you have a question or need assistance, our excellent customer service staff is available 24 hours a day, and just about every day of the year to assist you as best they can. Just call our main office toll free at 1866-357-2020.
If you are ready to master your online Florida ticket dismissal course, then sign up now!
Reasons to take Comedy Driving Traffic School
Flexible Schedule
Rush Delivery
Unlimited Log-ins
State Approved
Take Untill You Pass
100% Animated
Free Audio and Video
Free Certificate Download
Live Phone Support
Free Streaming Video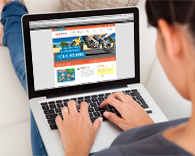 Ready to dismiss your ticket?
Social Share