Holmes County Florida Online Traffic School
Holmes County Florida Online Traffic School
Are you looking to find a Florida Online Traffic School that is State Approved for ticket dismissal in Holmes County? Well look no further, Comedy Driving is the online course for you!
Have you ever been speeding down a highway, and all of a sudden you hear a siren and see flashing lights? So now you have a speeding ticket and they have you.  What do you do now?  The answer is Comedy Driving Traffic School.
We have been approved by the State of Florida to teach the 4-hour BDI (Basic Driver Improvement) course to anyone who has received a ticket in the state of Florida, and to any Florida residents who may have received a ticket in another state and has been told by the DMV to take a BDI course. With an easy registration process and a low course price, you are on your way to dismissing that citation.
Comedy Driving Traffic School has created a simple and entertaining website with animations to go along with the mandatory educational videos. While taking this course you do have the ability to log in and out of the course at will. If you need to grab a refreshment or maybe something to eat then feel free to click the log out button. We will be here when you get back, and so will the course, right where you left off.  If at any time you happen to experience an issue while taking the course, then please contact us at 713-465-0042, and a friendly knowledgeable customer service representative will be there to assist you.
Upon completion of your course you will be given the chance to print your certificate right away. Don't worry if you're unable to do so. We also e-mail that same certificate to you so you can print it out later. Don't forget that you still have to check with the county clerk or the DMV to verify the completion of your course. And as always, be safe when driving.
If you are ready to master your online Florida ticket dismissal course, then sign up now!
Reasons to take Comedy Driving Traffic School
Flexible Schedule
Rush Delivery
Unlimited Log-ins
State Approved
Take Untill You Pass
100% Animated
Free Audio and Video
Free Certificate Download
Live Phone Support
Free Streaming Video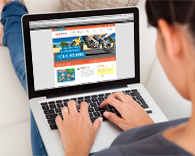 Ready to dismiss your ticket?
Social Share