Indian River County Florida Online Traffic School
Indian River County Florida Online Traffic School
Completing a Basic Driver Improvement course is easy as 1, 2, 3, at ComedyDrivingTrafficSchool.com we have all the answers to help you accomplish your ticket dismissal. Knowledgeable customer support agents are available 24/7 to ensure superlative customer convenience. Rest assured, our course is 100% certified, recognized, and approved by the Florida DHSMV.
Avoid traffic, commute, and parking hassles. Save your time and gas-cash with our witty online traffic school. We deliver a stress-free environment full of laughter and learning. Smartphone and tablet friendly, our course is designed to be flexible and easily accessible.
Our course curriculum is thoughtfully prepared and maintained by professional comedians and cartoon-animators to bring you the most effective course available. As a model for driving safety improvement, we appreciate the use of comedy to administer education. Our online class proves to be impressively interesting as our students agree that humor is an effective tool in learning, remembering, and applying knowledge obtained throughout our course.
HELPFUL TIP: You must contact the Indian River County Clerk [http://www.clerk.indian-river.org/] within 30 days of receiving the ticket to inform them of your needs to dismiss the ticket.  Additionally, a one-time payment must be paid to the County Clerk which permits you to take the course. Once your payment is processed, you will be given three months to complete the course and confirm your achievement with the Indian River County Clerk of Court.
For More Info; Contact our 24/7 Live Customer Support at 713-465-0042 or Support@ComedyDrivingTrafficSchool.com
If you are ready to master your online Florida ticket dismissal course, then sign up now!
Reasons to take Comedy Driving Traffic School
Flexible Schedule
Rush Delivery
Unlimited Log-ins
State Approved
Take Untill You Pass
100% Animated
Free Audio and Video
Free Certificate Download
Live Phone Support
Free Streaming Video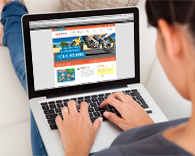 Ready to dismiss your ticket?
Social Share