Jefferson County Florida Online Traffic School
Jefferson County Florida Online Traffic School
Have you recently received a ticket in Jefferson County and you need a ticket dismissal or need an insurance discount?  Well, Comedy Driving Traffic School is where you want to be.  We offer a four-hour BDI (basic driver's improvement) course for $25. Our course gives you the opportunity to take the final exam as many times as needed without having to pay more.  You basically take the exam until you pass. Once you complete the course we give you the option to print out your certificate right then and there. That way you don't have to wait for one to come in the mail. Our course is designed to help you; it's very informative with all the information that we give you and it will keep you laughing with all the animation and jokes.
By taking our course, we also give you the choice to log in and out as many times as needed.  It's not necessary to take it from a desktop or a laptop; you can take it by using many different devices such as, apple products (iPhone4s and up, iPad and iPod touch) and Android devices. If you ever need help with anything we have customer service representatives and technical support representatives available. Call us at 713-465-0042 we will be able to assist you.
If you are ready to master your online Florida ticket dismissal course, then sign up now!
Reasons to take Comedy Driving Traffic School
Flexible Schedule
Rush Delivery
Unlimited Log-ins
State Approved
Take Untill You Pass
100% Animated
Free Audio and Video
Free Certificate Download
Live Phone Support
Free Streaming Video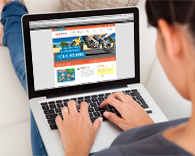 Ready to dismiss your ticket?
Social Share