Lafayette County Florida Online Traffic School
Lafayette County Florida Online Traffic School
Have you recently driven through Lafayette County, Florida, and received a ticket. Well, Comedy Driving Traffic School offers a 4 BDI (basic driver improvement) course that is approved by the state of Florida to help dismiss that citation, and it can even be used to lower your monthly auto insurance rate.
The course is only $25 with no additional charges or hidden fees. We have a quick 5-minute registration, and once you have completed the registration process you can start the course right away. We have designed our course to be compatible with almost any device that can connect to the internet (desktops, laptops, smartphones, and tablets). Our course includes humorous animations and informative videos and can be taken at any time day or night. You are also allowed to log in and out as many times as needed, and the best part about our course is that you can take it as many times as needed until you pass it. If you do run into any problems while taking the course, you may contact one of our knowledgeable customer service representatives at our toll-free number 713-465-0042.
With our course, you are given the opportunity to immediately download and print your certificate. If you do not have the availability to do so, you will also receive an email with a printable version of the same certificate. So remember, to dismiss your ticket and have a little fun doing so, Comedy Driving Traffic School is the best way to go.
If you are ready to master your online Florida ticket dismissal course, then sign up now!
Reasons to take Comedy Driving Traffic School
Flexible Schedule
Rush Delivery
Unlimited Log-ins
State Approved
Take Untill You Pass
100% Animated
Free Audio and Video
Free Certificate Download
Live Phone Support
Free Streaming Video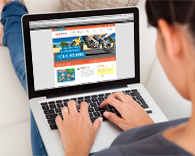 Ready to dismiss your ticket?
Social Share