Lake County Florida Online Traffic School
Lake County Florida Online Traffic School
Lake County is named so for the lakes in the area. In the 200 square mile county there are more than one thousand lakes. The state of Florida is known for its nice weather and laid back atmosphere. Don't relax too much, though. The traffic is plentiful. Traffic incidents aren't uncommon in the sunshine state. Florida was in the top 10 states with the highest amount of fatal traffic crashes according to a report by the Insurance Institute for Highway Safety.
The total crashes for Lake County in 2016 alone are over 3,000. The report, published in October of 2016, shows the number of crashes per month in Lake County. One-third of the total crashes so far in 2016 resulted in injury while 29 of the incidents resulted in death.
Table 1 via Florida's Integrated Report Exchange System 10/12/2016
The department of motor vehicles recommends taking a Traffic Collision Avoidance course for safety and potential insurance discounts. In the case of a collision, an officer will generally assign the fault to one or more of the drivers that will result in a citation. To prevent the points from being added to your driving record (which can eventually result in the suspension of your license).
You can find more information on the driving record point system here. To take a Traffic Course, click here.
Reasons to take Comedy Driving Traffic School
Flexible Schedule
Rush Delivery
Unlimited Log-ins
State Approved
Take Untill You Pass
100% Animated
Free Audio and Video
Free Certificate Download
Live Phone Support
Free Streaming Video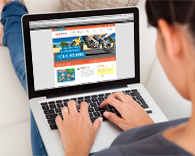 Ready to dismiss your ticket?
Social Share