Levy County Florida Online Traffic School
Levy County Florida Online Traffic School
Comedy Driving Traffic School now offers an online Florida traffic course. Our course is simple easy-going, just like Levy County. For the low price, you can dismiss that ticket you might have just received and possibly even lower your monthly auto insurance rate.
Whether you are taking this course of your own choosing or because you are being forced to take the class by the court clerk or the Florida DMV, we are here to assist you with our Florida state-approved 4-hour BDI (Basic Drivers Improvement) course. We also have friendly knowledgeable customer service representatives available to help you.
All you have to do is head on over to www.ComedyDrivingTrafficSchool.com and click on the "Online Course Sign Up" to get started. Once you have completed the registration process you can start the course whenever you are ready. You are allowed to log in and out of the course at your own leisure, and can complete the course when you please. Your progress is saved as you cruise through the course so you will start right where you left off when you log back in. There is also a mobile device (Smart Phone and Tablet) version of our course for those of you that don't like to be tethered to a computer.
Upon fulfillment of the mandatory time and testing on our course, you will be presented with the chance to print your certificate of completion. You will also be sent an e-mail with the same certificate attached, in case you need to print it at a later time. As always, remember to turn this into the correct court and verify with the court clerk that your information has been received.
If you are ready to master your online Florida ticket dismissal course, then sign up now!
Reasons to take Comedy Driving Traffic School
Flexible Schedule
Rush Delivery
Unlimited Log-ins
State Approved
Take Untill You Pass
100% Animated
Free Audio and Video
Free Certificate Download
Live Phone Support
Free Streaming Video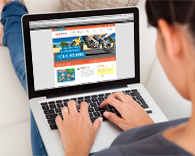 Ready to dismiss your ticket?
Social Share