Marion County Florida Online Traffic School
Marion County Florida Online Traffic School
Are you looking to find a Florida Online Traffic School that is State Approved for ticket dismissal in Marion County? Well look no further, Comedy Driving is the online course for you!
Many state highways, as well as, Interstate 75 come together in Ocala. There are large portions of uninhibited highways throughout the county and it is inevitable that you will be stopped by a highway patrol car. If you're unfortunate enough to have this happen to you and you've received a citation, then Comedy Driving Traffic School has the school you need to avoid points from going on your driving record.
Our quick and interactive course starts with the simple registration process.  Once you have entered the necessary information, created your username (e-mail address), and password you are able to start at any time. Comedy Driving's course is available to you along with our knowledgeable and friendly customer service and technical support team at 713-465-0042. You are able to log in and out of the course whenever needed and your progress is saved as you navigate from page to page. We even offer a mobile device compatible version of our course for all those people who may not have access to a desktop computer. Just make sure your device is connected to the internet and you're ready to go.
Once you have completed our informative and humorous course, you are able to access your certificate via a downloadable PDF file. We will also e-mail you a copy of the same certificate to the e-mail address provided when you registered.  So get out there and enjoy all that central Florida has to offer, and know that if that unfortunate citation happens to you that Comedy Driving Traffic School is here to keep your driving record free of those pesky citations.
If you are ready to master your online Florida ticket dismissal course, then sign up now!
Reasons to take Comedy Driving Traffic School
Flexible Schedule
Rush Delivery
Unlimited Log-ins
State Approved
Take Untill You Pass
100% Animated
Free Audio and Video
Free Certificate Download
Live Phone Support
Free Streaming Video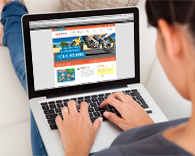 Ready to dismiss your ticket?
Social Share