Martin County Florida Online Traffic School
If you're looking for a state approved Florida online traffic school in Martin County, don't search any more. Comedydrivingtrafficschool.com offers a 4 hour BDI (Basic Driver Improvement) course designed to educate, dismiss the points from going on your driving record, receive up to a 10% discount on your monthly car insurance and make you laugh.
As always, be sure to ask the Clerk of Courts that gave you the citation, permission to take the course.  This will ensure you are eligible for the class.  After that, head to our website and begin the registration process.  Verify all the information entered is correct so the Clerk of Courts will not reject your certificate once it is completed.
The material is mostly animations and videos so there is very little reading required. The material was written by professional comedians so it won't feel like you are taking a 4 hour BDI course. The class is designed to fit your schedule allowing you to log in and log out as many times as you need to throughout.  As long as you have internet access you will probably be able to take it on your iPad, mobile tablet, computer or laptop.  The course is available 24 hours a day, 7 days a week.
After it is completed, your certificate will automatically be emailed to you as a PDF attachment so you can print out your state certified certificate and take it to Martin County Clerk.
Comedydrivingtrafficschool.com offers 24 hour customer service and technical support if you have any questions or problems while taking the course.
If you are ready to master your online Florida ticket dismissal course, then sign up now!
Reasons to take Comedy Driving Traffic School
Flexible Schedule
Rush Delivery
Unlimited Log-ins
State Approved
Take Untill You Pass
100% Animated
Free Audio and Video
Free Certificate Download
Live Phone Support
Free Streaming Video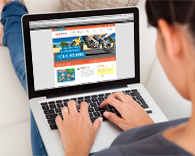 Ready to dismiss your ticket?
Social Share