Okeechobee County Florida Online Traffic School
When you're cruising the streets of Okeechobee County, whether on a country back road or one of the many highways around and through the county, you don't want to see the flash of the yellow, green and white Okeechobee County Sheriff's squad cars chasing you down to give you paperwork you'll be taking home to file under, "Oops!" To avoid those tickets, you need to make sure you're up to date on Florida's driving laws along with any ordinances put in place by Okeechobee County and any of the cities within it. Most of Okeechobee county's ordinances determine rules for stopping, standing and parking, but you can take Comedy Driving's online 4 hour BDI course to stay informed about Florida State's driving laws. You could take the course to get a ticket dismissed, get a potential discount on your insurance or just to be the best driver possible.
When new traffic laws are passed, not every person is aware of them which make it incredibly easy to get a traffic ticket. For example, you may not know that Florida recently passed a law to ban texting and driving across the entire state. Even if you are aware of the law often cited as, "Florida's Ban on Texting While Driving", you may not be aware that it actually covers more than just simply texting. Sending, "lol" to your buddy's funny message will definitely get you a ticket. You can also get a ticket if you send an email, load up a web page or even playing Angry Birds. You definitely shouldn't shoot your bird at a pig, especially while you're driving.
To find out more about Florida's driving laws and how to drive safely among other Florida drivers, check out Comedy Driving Traffic School!
If you are ready to master your online Florida ticket dismissal course, then sign up now!
Reasons to take Comedy Driving Traffic School
Flexible Schedule
Rush Delivery
Unlimited Log-ins
State Approved
Take Untill You Pass
100% Animated
Free Audio and Video
Free Certificate Download
Live Phone Support
Free Streaming Video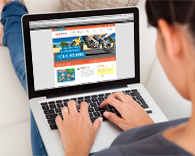 Ready to dismiss your ticket?
Social Share