Osceola County Florida Online Traffic School
Osceola County Florida Online Traffic School
Comedy Driving Traffic School is approved by the state of Florida to teach our fun and humorous 4-hour BDI (Basic Driver Improvement) course for Osceola County.  The course can be used to dismiss a Court Ordered, Student Elected BDI and a TCAC (Traffic Collision Avoidance Course) BDI Course.  You may even possibly receive a discount on your monthly auto insurance rate.
This simple online ticket dismissal process starts with a click of your mouse when you head on over to www.ComedyDrivingTrafficSchool.com, and navigate to the "Online Course Sign Up" button on our home page. Once you have completed the registration process you can start the course at any time. You are able to log in and out of the course whenever you need to, and as you navigate to each new page your progress is saved. Thus, you can complete the course at your own pace.
We even created a mobile device compatible version of our course for those of you who might only have a tablet or smartphone.  There is no app to download, just navigate to our website and register and start the course right away.  The course is still accessible on a desktop computer.  Upon completion of your course you will have immediate access to your certificate, and will also receive an e-mail with the same certificate of completion.  Remember that some Clerk of Courts may still require you to turn in the certificate in person.  Contact them for any questions regarding that process.
All of this is incorporated into one low price of $25 with no additional cost or hidden fees. So remember for the most fun allowed while taking a ticket dismissal course, Comedy Driving Traffic School is the way to go.
If you are ready to master your online Florida ticket dismissal course, then sign up now!
Reasons to take Comedy Driving Traffic School
Flexible Schedule
Rush Delivery
Unlimited Log-ins
State Approved
Take Untill You Pass
100% Animated
Free Audio and Video
Free Certificate Download
Live Phone Support
Free Streaming Video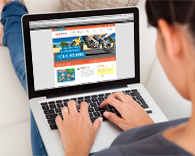 Ready to dismiss your ticket?
Social Share