Parking Lots
Five o'clock traffic is dangerous, early morning traffic is dangerous, but one the most underestimated problem may be the parking lot.  Parking lots are places where we feel it is the last area to get a ticket or cause an injury from motor vehicle accidents.  What are the rules for parking lots?  Do we seriously have to make complete stops to words painted on the grounds that are halfway faded out?  The answer is absolutely "yes".  Adults and children are unpredictable especially in parking lots.  Some people walk slow, others walk fast, handicapped individuals take a little longer than the rest, and children are running in between cars playing tag with siblings or friends.  Motorists use parking lots as short cuts when traffic is too heavy at the intersection. Drivers can be seen driving across a parking lot to avoid the stop sign or traffic light and sometimes they might get pulled over by an officer who is waiting there for that exact reason.  The following are examples of parking lot accidents from 2005 derived from the U.S. Department of Transportation.
27k accidents happened while entering the parking lot (1)
65k accidents occurred while departing from a parking spot (1)
198k accidents happened while backing up (1)
What can be done to reduce the number of injuries and accidents in parking lots?  A lot of parking lots use speed bumps to slow down drivers and to help protect pedestrians.  Other parking lots are equipped with stop signs, speed limits, and crosswalks.  Ultimately, the responsibility falls on the motorist to obey warning signs and to pay close attention to people walking in parking lots and always avoid distractions like texting or playing games on cell phones.
Motorists alone are not the only contributor to parking lot accidents; pedestrians can cause problems also.  Pedestrians should dedicate attention to motorists who cannot see them.  They should not walk and text at the same time.  The following are a couple of tips for pedestrian safety.
Pedestrians need to be predictable, walk in crosswalks, and obey warnings signs.
Walk against the flow of traffic so motorists can see you better.
Keep children close, hold their hand, and practice safety precautions.
Do not text on cell phones while walking in the parking lot.
Reasons to take Comedy Driving Traffic School
Flexible Schedule
Rush Delivery
Unlimited Log-ins
State Approved
Take Untill You Pass
100% Animated
Free Audio and Video
Free Certificate Download
Live Phone Support
Free Streaming Video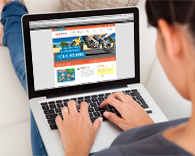 Ready to dismiss your ticket?
Social Share