Pasco County Florida Online Traffic School
If you live in Pasco County, are unlucky and received a traffic citation, then we have an online Florida traffic school for you. Comedy Driving Traffic School offers a fun and humorous 4 hour BDI (Basic Driver Improvement) class that is approved for dismissing that ticket you may have received.  Check with your insurance company for a possible insurance reduction as well.
We've made our course available to you 24 hours a day / 7 days a week, because we understand that you may not have the ability to sit in front of your computer for 4 straight hours.  Take the course from anywhere that has an internet connection. There is also a staff of friendly and knowledgeable customer service representatives ready to assist you with your questions.
As always, contact your local county, or the county that gave you the ticket, to ensure you are eligible to take the course.  Typically, you are only allowed to take the course once a year.  If you have already taken a BDI course, then you could still be eligible for taking the course as a 4 Hour BDI Court Ordered Course.  Again, you must contact the court to ensure it is an option for you.
To make this Florida dismissal process quicker and less painful for you, we offer you the ability to download and print your certificate of completion as soon as you complete the course. Furthermore, we will send you an e-mailed copy of that same certificate. We furnish everything above and more to you for the low price of $25. Yes, that is the only price you pay. There are no additional or hidden fees involved.
If you are ready to master your online Florida ticket dismissal course, then sign up now!
Reasons to take Comedy Driving Traffic School
Flexible Schedule
Rush Delivery
Unlimited Log-ins
State Approved
Take Untill You Pass
100% Animated
Free Audio and Video
Free Certificate Download
Live Phone Support
Free Streaming Video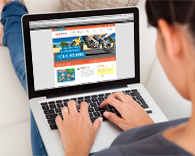 Ready to dismiss your ticket?
Social Share