Pinellas County Florida Online Traffic School
Pinellas County Florida Online Traffic School
Are you looking to find a Florida Online Traffic School that is State Approved for ticket dismissal in Pinellas County? Well look no further, Comedy Driving is the online course for you!
The state of Florida has a new, inexpensive, and fun option for online Florida ticket dismissal, Comedy Driving Traffic School!  With our simple and easy to navigate website, it is here to change your mind about online courses. There is very little reading; our course consists of comedic animations and instructional videos. So just sit back and laugh a little while you learn.  And while all this is going you are dismissing a ticket.  Simply log on to the website and enter your court information to begin.  Remember to always contact the county that gave you the ticket before completing the course to ensure you are eligible to take the class.
Our state-approved 4-hour BDI (Basic Driver Improvement) course is available to Pinellas County 24 hours a day, 7 days a week, on any computer or mobile device (tablet or smartphone compatible)that can connect to the internet. So whether you're enjoying a Mia Tia at the beach or cuddled up with some coffee on your couch, we are here to assist you. Our knowledgeable and friendly customer and technical service teams are available to you 24/7 as well.  Yet another added benefit is the ability to complete the course on your available time.  No matter when you complete the course, you will be able to access your certificate immediately. We will also e-mail an additional copy to you.  If needed, a hard copy can be mailed.
Go to our simple sign up process and get started now.  If you have any further questions simply call 713-465-0042.
If you are ready to master your online Florida ticket dismissal course, then sign up now!
Reasons to take Comedy Driving Traffic School
Flexible Schedule
Rush Delivery
Unlimited Log-ins
State Approved
Take Untill You Pass
100% Animated
Free Audio and Video
Free Certificate Download
Live Phone Support
Free Streaming Video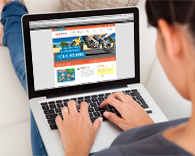 Ready to dismiss your ticket?
Social Share