Polk County Florida Online Traffic School
Polk County Florida Online Traffic School
Comedy Driving Traffic School is now offering an exclusively online course.  The course is a 4-hour basic driver improvement course and it is Florida State Approved.  It is available for Polk County residents, as well as the whole state of Florida. It can be accessed conveniently from comedydrivingtrafficschool.com.
The material for our course is put together by our instructors who are professional comedians, they make sure to keep it fun and entertaining. The course is 100% fully animated includes audio.  Our course is offered at a low price of $25.  Your certificate is automatically received via e-mail upon completion of your course.  Students can print and submit it to the court the same day the course is completed.
Our course is mobile device and tablet compatible and customers can always take the course the old fashion, on a desktop computer.  There is no need to download any app, all the course material can be found on our website.  Students have access to log in and out of the course as much as they need and can take the course all at once or over several days, weeks or months. You can take up to 4 months to complete the course. If you choose to log out several times, don't worry about losing any completed material.  The work is automatically saved as you go and there is a final exam at the end of the course which you can take until you pass.
If you have any questions, you may reach us at 713-465-0042. We offer customer service and technical support 365 days per year.
If you are ready to master your online Florida ticket dismissal course, then sign up now!
Reasons to take Comedy Driving Traffic School
Flexible Schedule
Rush Delivery
Unlimited Log-ins
State Approved
Take Untill You Pass
100% Animated
Free Audio and Video
Free Certificate Download
Live Phone Support
Free Streaming Video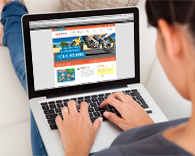 Ready to dismiss your ticket?
Social Share