Putnam County Florida Online Traffic School
Putnam County Florida Online Traffic School
For Putnam County residents: Have you received a ticket and need to take a traffic course to dismiss it?
Comedy Driving has exactly what you need!
Our course is offered online only for Putnam County and the whole state of Florida.  It's a basic driver improvement course, valid for ticket dismissal and it is Florida State approved.
You may find us online at any time; the registration for the course can be started by going to "online course sign up." The registration is fast and easy, and if you do happen to have any questions during registration or at any time in the course, you may contact our customer service representatives at 713-465-0042. Our customer service representatives are available 24/7, any time, any day. Our low price is of $25 no added fees or extra charges for simply taking the course.  Other schools charge simply to have audio!  The course material is fully animated, and includes lots of humor in between.  You may access the course from nearly any device (including mobile and tablet devices) and anywhere as long as you have internet access.
You may log in and log out of the course as many times as you need to, and your work will be automatically saved as you go.
At the end of the course there will be one final exam of 40 multiple-choice questions. Don't worry; if you miss a couple of questions you will not fail, you may take the test until you pass the course.  Take as many opportunities as needed to complete the course.  Upon completing the course you will receive an automatic e-mail with your certificate of completion.  So why wait any longer? Start your traffic course today!
If you are ready to master your online Florida ticket dismissal course, then sign up now!
Reasons to take Comedy Driving Traffic School
Flexible Schedule
Rush Delivery
Unlimited Log-ins
State Approved
Take Untill You Pass
100% Animated
Free Audio and Video
Free Certificate Download
Live Phone Support
Free Streaming Video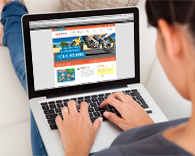 Ready to dismiss your ticket?
Social Share