Roadway Rookies

Do you remember the feeling you had when you were approved to get a driver's license at the age of sixteen and being roadway rookies? It felt like you were on top of the world, your parents knew nothing about having fun, and most of all it was a sense of freedom. This little card that had your picture gave you the right to drive around to the store, movies, school, games, and plenty of social events where more teenagers were going to be. Learning how to drive and getting a license is a great experience in life but at the same time, we have to remind teenagers of the dangers that are out on the roadway. Yes, it is time for you to be a parent; the tables have turned and teenagers must be willing to listen to advice and wisdom to prevent accidents. Comedy Driving Traffic School. encourages all households to prepare their children for a safe transition into the world of traffic, road rage, and distractions that cause fatal collisions. The following are tips for teen drivers and how parents can set ground rules before handing over the keys.
Be predictable: maintain a constant speed, no weaving in and out lanes, use turn signals
Be alert: avoid cellphone use, NTHSA reports 21% of fatal crashes involve drivers age 15-19 due to the cell phone
Be considerate: listen to your parents and parents need to model good driving behavior
According to the National Safety Council, the first twelve months is the most dangerous time in a teen's driving life and motor vehicle crashes are the number one reason for teen deaths in America. Parents should practice driving with their teens and talk about safe driving habits because inexperience is one of the leading causes of collisions. Increasing practice time, reducing the number of passengers, and eliminating night time driving can help reduce the chance of teens getting into a collision. Being a new driver can be fun, exciting, and makes you feel independent until you have to go back home to mom and dad with a curfew.
Reasons to take Comedy Driving Traffic School
Flexible Schedule
Rush Delivery
Unlimited Log-ins
State Approved
Take Untill You Pass
100% Animated
Free Audio and Video
Free Certificate Download
Live Phone Support
Free Streaming Video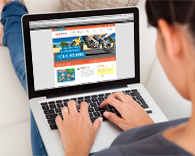 Ready to dismiss your ticket?
Social Share