Rubbernecking

The flow of traffic is just fine until you come across a collision and now you are stuck in a traffic jam that feels like a parking lot. Traffic sometimes gets so backed up you cannot press the accelerator; all you can do is come off the brake and brake again. This gets on everyone's last nerve since it seems like you will never get to your destination.
As traffic creeps up you wonder "What is taking so long and why are we not moving any faster?" Then all of a sudden you see the problem that is causing the delay. It is a bad collision that involved four vehicles. One vehicle is turned over on its side and people are standing by waiting for an ambulance. You say to yourself "OMG, that car looks familiar my dad drives one those. Is it him?" To be sure, you slow down and take a real long stare as you creep by the accident to see that it is not your family member.
You may not realize it, but you just participated in rubbernecking. Rubbernecking is staring at something that takes your interests so much that you become part of the reason why the flow of traffic is so slow and backed up. Your eyes are off the road and the vehicle is still in motion; this can cause another accident with you being the main reason.
It may not always be an accident you are staring at, it could be anything from a new car, old car, new wife/husband, or it could be an advertisement on a billboard that catches your full attention. If you know your attention jumps from here to there practice paying attention to the road from the passenger side while someone else drives. While they are operating the vehicle notice if they too are rubbernecking so you can get their focus back on the road. Comedy Driving, Inc. encourages everyone to pay close attention to roadways and stop rubbernecking.
Reasons to take Comedy Driving Traffic School
Flexible Schedule
Rush Delivery
Unlimited Log-ins
State Approved
Take Untill You Pass
100% Animated
Free Audio and Video
Free Certificate Download
Live Phone Support
Free Streaming Video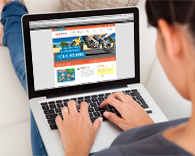 Ready to dismiss your ticket?
Social Share