Santa Rosa County Florida Online Traffic School
Santa Rosa County Florida Online Traffic School
Have you recently received a citation in the historic town of Milton, the sandy beaches of Navarre, or any part of Santa Rosa County? Then Comedy Driving Traffic School has a fun, entertaining, and informative online Florida traffic school just for you.  Our 4-hour BDI (Basic Driver Improvement) course was created by professional comedians to keep you laughing while you're learning.  And by the way, you're preventing points from accumulating on your driving record. You can even use this course to get a discount on your auto insurance rate, just check with your insurance agency.
Our course only cost $25 with no additional with no hidden fees and can be taken at any time, night or day. With the available customer service support 24/7, we also give you the ability to log in and out of the course whenever needed.  Don't worry, as you advance through the course your progress will be saved from page to page. If you do happen to run into any problems just contact one of our customer service representatives at 713-465-0042 at any time.  This course can be taken from almost any computer with internet access.  Additionally, we have incorporated a mobile device feature which allows almost any mobile device to access the course as well.
Once you have completed the course you will have the ability to print your certificate and an e-mail a downloadable PDF file is sent to as well.  So whenever you are ready to laugh and learn with us, just sign up. We look forward to assisting you with your Florida traffic school needs.
Reasons to take Comedy Driving Traffic School
Flexible Schedule
Rush Delivery
Unlimited Log-ins
State Approved
Take Untill You Pass
100% Animated
Free Audio and Video
Free Certificate Download
Live Phone Support
Free Streaming Video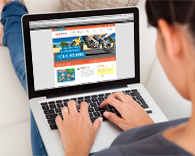 Ready to dismiss your ticket?
Social Share