Sarasota County Florida Online Traffic School
Sarasota County Florida Online Traffic School
Did you receive a ticket in Sarasota County, and are on a short time frame to complete your 4 Hour Basic Driver Improvement (BDI) course? Look no further, Comedy Driving Traffic School is the most convenient and hilarious way of keeping your driving record clean by dismissing that citation. Our course may also be useful in lowering your monthly auto insurance rate.
This is an interactive online traffic school which is mostly audio, visual, has informative videos, comedic animations, and with our quick and easy registration process, you can get started on your course at any time of day or night.  Not to mention, since your progress is saved as you move from page to page you can log in and out at your own convenience. The online course is even mobile device compatible.  That means you are able to use almost any tablet or smartphone that can access the internet. Once you pass our course, your certificate is processed instantly and you can print a certificate of completion directly from your computer.  An e-mail will also be sent to you with the same certificate. Additionally, our knowledgeable customer service and technical support teams are here to assist you 24 hours a day/ 7 days a week.
With so many natural wonders and entertaining things to enjoy through Sarasota County, let us keep you out of a boring classroom. We have successfully helped thousands of Florida residents clear their ticket by taking our state-approved online traffic school course.
If you are ready to master your online Florida ticket dismissal course, then sign up now!
Reasons to take Comedy Driving Traffic School
Flexible Schedule
Rush Delivery
Unlimited Log-ins
State Approved
Take Untill You Pass
100% Animated
Free Audio and Video
Free Certificate Download
Live Phone Support
Free Streaming Video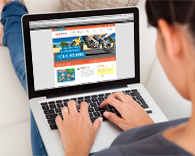 Ready to dismiss your ticket?
Social Share