We've all heard the saying "Click it or Ticket"
We've all heard the saying "Click it or Ticket" at one time or another
We've all heard the saying "Click it or Ticket" at one time or another. Well if you haven't its self-explanatory; either you buckle up or if you don't then you will receive a ticket.
When riding in a vehicle it's very important that you are wearing your seatbelt at all times. It doesn't matter if you are the driver, passenger, or in the back seat. If you were to get pulled over and the officer notices that you aren't wearing one they will write you a ticket. The tickets are expensive and the fine is up to $200.00 with court cost.  However, if a child is in the backseat and does not have on a seatbelt or is not properly restrained the fine can be up to $450.00.
Here are some facts from the National Highway Traffic Safety Administration:
About every hour in the U.S. somebody dies from not wearing a seatbelt?
About 60% of passengers are killed from not wearing a seatbelt in car crashes.
 People who wear seatbelts are protected by ejection from car crashes.
Young adults between the ages of 18-24 have the highest rating of being injured in a car crash from not wearing seat belts.
Studies show that adults over the age of 34 are the ones who are always wearing a seat belt and have very few injuries upon car crashes.
It's not worth spending your money on a ticket, having to go to court, missing work or school. Don't risk your life or somebody else's life.  When you get in a vehicle, always remember to buckle up. Not only does it save your life but it saves others as well.
Reasons to take Comedy Driving Traffic School
Flexible Schedule
Rush Delivery
Unlimited Log-ins
State Approved
Take Untill You Pass
100% Animated
Free Audio and Video
Free Certificate Download
Live Phone Support
Free Streaming Video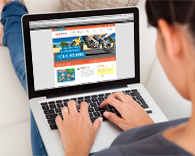 Ready to dismiss your ticket?
Social Share