St. Johns County Florida Online Traffic School
St. Johns County Florida Online Traffic School
Have you recently received a ticket in St. Johns County? St Johns County is one of the original two counties when Florida joined the union, one of its fastest-growing counties and a major part of the Jacksonville metropolitan area. All that growth in the county is creating more traffic, and that in turn has created more patrol officers. So if you were recently stopped and given a ticket, then let Comedy Driving Traffic School help you prevent that traffic citation from accumulating points on your driving record.
Our online Florida ticket dismissal class is approved by the state of Florida and fulfills the 4hour BDI (Basic Driver Improvement) course requirements. We offer a quick sign up process, simple to navigate course, and the ability to log in and out at your leisure. Our course is 100% audio and includes visual informational charts, videos, and comedic animation. It is also mobile device compatible.  If there is ever a moment where you have a question about the course or maybe technical issue, don't worry because we have knowledgeable customer service and technical support representatives available to you on our toll-free number 713-465-0042.
Upon completing your online Florida traffic school course, we will give you immediate access to your certificate of completion via a downloadable PDF file. The same file is sent to your e-mail for you to print later if you are unable to during the completion of your course.  All this is included in a simple one-time payment of $25, with no hidden fees.
If you are ready to master your online Florida ticket dismissal course, then sign up now!
Reasons to take Comedy Driving Traffic School
Flexible Schedule
Rush Delivery
Unlimited Log-ins
State Approved
Take Untill You Pass
100% Animated
Free Audio and Video
Free Certificate Download
Live Phone Support
Free Streaming Video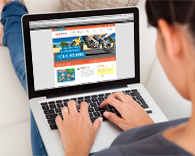 Ready to dismiss your ticket?
Social Share