Sumter County Florida Online Traffic School
Sumter County Florida Online Traffic School
Are you looking to find a Florida Online Traffic School that is State Approved for ticket dismissal in Sumter County? Well look no further, Comedy Driving is the online course for you!
These are some common questions our customers ask regarding our course:
I received a ticket in Sumter County and I am not sure what I need to do?  
First, a person that has received a citation must contact the county clerk and make sure they are eligible to take the class.
How long is your course?
Our online Basic Driver Improvement Course is 4 hours and is approved by the state of Florida.
How do I get the certificate?
Upon completion of the course, you receive a PDF file to print for your court and there will also be an e-mail PDF copy sent to your e-mail address for no additional charge.
What type of device can I use to take the course?
The course is compatible with laptops, desktops, iPad's, smartphones, and other tablets for your convenience; simply make sure you have a strong internet connection or signal.
How do you register for the 4-hour BDI Course?
To sign up for the course click on the green "Online Course Sign Up" button you can find on our home page.  If you have difficulty signing up please call (866) 357-20020 or email us at support@comedydrivingtrafficschool.com at any time for further assistance.  Our customer service representatives will be happy to assist you at any time.
How much is the course and how do I pay for it?
Our course price is only $7.50 plus the State Assessment and Processing Fees, and all you need is a credit card to make the payment.
Once I sign up for the course do I have to complete it the same day?
No, you can log in and log out as much as you want.  Your progress is saved every time you click on the "Next" button at the bottom of each course page.
What if I fail the course?
You can test until you pass.  If at first, you don't succeed, try, try again!  There is no limit to the number of times you can take the final test and there is no charge for taking the final exam multiple times.
If you are ready to master your online Florida ticket dismissal course, then sign up now!
Reasons to take Comedy Driving Traffic School
Flexible Schedule
Rush Delivery
Unlimited Log-ins
State Approved
Take Untill You Pass
100% Animated
Free Audio and Video
Free Certificate Download
Live Phone Support
Free Streaming Video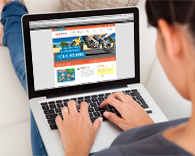 Ready to dismiss your ticket?
Social Share