Tender Loving Care (TLC)
People need tender loving care to reassure ourselves we are appreciated, we are needed, and most importantly we matter.  Without TLC we feel neglected, worn out and we tend to slack or stop working toward future goals.
This same concept is just as important and necessary for the upkeep and maintenance of your motor vehicle.  Cars, trucks, SUVs, motorcycles and bicycles need upkeep.  When was the last time you took your car to the mechanic?  Do you wait until the "check engine" light comes on?  If so, by that time you may not have enough money to fix the problem as compared to the problem being fixed before it got out of hand.  Better technology allows us to go a little further without maintenance but our Texas Defensive Driving Course suggests you check your owner's manual for your vehicle's regular scheduled service times.
Think about this; if you're driving and all of a sudden a horrible rainstorm comes out of nowhere, your windshield wipers are not going to perform to give you great visibility if they are on their last leg.  Most likely, they will leave streaks across your windshield and will make it hard for you to see the roadway.  This is a formula for a quick accident.  Windshield wipers need to be replaced as soon as you notice these types of streaks.  The following is a short list Comedy Driving has provided so you can keep a close eye on these items.
Make sure headlights are working, high beam and low beam.
Check turn signals to make sure they haven't blown out.
Maintain proper tire inflation and rotation.
Oil changes are recommended every 3k miles traveled.
Check owner's manual for regularly scheduled tune-up times
Reading your owner's manual and following the maintenance schedule will lead to less money being spent and prevent major problems from occurring while driving on the roadway. People and vehicles both need a little TLC to keep things running smoothly.
Reasons to take Comedy Driving Traffic School
Flexible Schedule
Rush Delivery
Unlimited Log-ins
State Approved
Take Untill You Pass
100% Animated
Free Audio and Video
Free Certificate Download
Live Phone Support
Free Streaming Video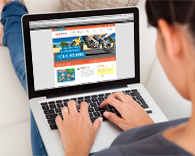 Ready to dismiss your ticket?
Social Share