Union County Florida Online Traffic School
Union County Florida Online Traffic School
Have you received a ticket in Union County and need to find a Traffic School that is State approved to have it dismissed?
Comedy Driving Traffic School teaches the funniest course online! Our hilarious animated characters and comedy material are sure to keep you entertained throughout the entire course! And our low price of $25 makes it that much better!
Our course will not only provide you with a certificate that will dismiss your ticket and avoid points from being applied to your driving record but can also be used for possible insurance discounts of up to 10%. (Contact your insurance provider for details)
Don't have a computer? No problem! Our course is also mobile compatible! You can use your smartphone, tablet, iPad, or almost any mobile device that has internet access and speakers!
Our course has been designed to conveniently fit your busy schedule allowing you to log in and log out as much as you want!  Your progress is automatically saved every time you log out so when you log back in you will be able to continue from the place you left off!
At the end of the course, you will be given a final exam, no worries, because you can retest until you pass! 100% Passing Rate!
After completing your course, you will receive an automatic email of your certificate you can print out and present to Union County to dismiss your ticket.
Our friendly representatives are here to assist you if you have any questions or need technical support at 713-465-0042 or by email support@comedydrivingtrafficschool.com.
If you are ready to master your online Florida ticket dismissal course, then sign up now!
Reasons to take Comedy Driving Traffic School
Flexible Schedule
Rush Delivery
Unlimited Log-ins
State Approved
Take Untill You Pass
100% Animated
Free Audio and Video
Free Certificate Download
Live Phone Support
Free Streaming Video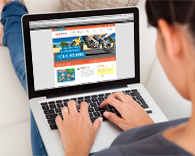 Ready to dismiss your ticket?
Social Share