Wakulla County Florida Online Traffic School
Wakulla County Florida Online Traffic School
Are you looking to find a Florida Online Traffic School that is State Approved for ticket dismissal in Wakulla County? Well look no further, Comedy Driving is the online course for you!
Traffic schools are in place for Florida to improve the knowledge and awareness for its residents and visitors that are caught violating traffic laws.  The schools are an option for those that elect to take the class as a method to not plead guilty of the conviction, avoid points from going on their driving record, and to evade an increase on their car insurance.
The course targets subjects selected by the Florida Department of Highway Safety and Motor Vehicle (FLHSMV), it defines the topic and elaborates on methods or strategies to increase driver awareness.   Such subjects include Florida highway and traffic statutes, driving under the influence, drowsy driving, and highway weather conditions.  FLHSMV evaluates each company that provides this service to ensure they meet the criteria for the course and that they are compliant with the regulations.
The course also covers traffic signals and the significance of obeying them and ensuring the driver is familiar with the road signs and traffic signals.  "According to statistics an estimated 40% of crashes occur at intersections" is a specific example of what kind of information one would be able to find on the course.
The course is 4 hours in length and it must be completed and turned in within the given deadline the county clerk or the Florida DMV proposed to the person that was cited.  As mentioned, the course can also lower car insurance for those that take the course and inform their insurance company they have completed the traffic school.  For additional information or for questions regarding the course contact the school at any time.
If you are ready to master your online Florida ticket dismissal course, then sign up now!
Reasons to take Comedy Driving Traffic School
Flexible Schedule
Rush Delivery
Unlimited Log-ins
State Approved
Take Untill You Pass
100% Animated
Free Audio and Video
Free Certificate Download
Live Phone Support
Free Streaming Video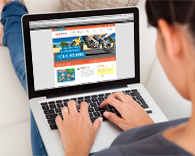 Ready to dismiss your ticket?
Social Share