Walton County Florida Online Traffic School
Walton County Florida Online Traffic School
It's time to take that required Basic Drivers Improvement course for your Walton County citation! Sign up for a humorous traffic school with us and spend the required 4 hours laughing! We are 100% Florida State Approved. The course was created by professional comedians!.
We pride ourselves on our unique approach to teaching the defensive driving techniques most people dread. Our content was compiled by professional comedians and instructors with years of driving safety training experience. This is as legit as you can get. This is only 4 hours long and you can take it at your leisure, you don't have to sit down and do it all at once! When you complete the course you will receive your certificate via the email you provide during registration. Just print it out and presto! You are ready to present it to the county clerk.
Take a tour of our online course by simply going through our sample pages. This is the easiest and funniest way to get rid of that ticket you hate so much! No matter what court you must present a certificate to, we are the class to provide you with the point reduction you need to keep your record clean! If you have any questions regarding our class, feel free to call our 24/7/365 customer support at 866-357-2020. We are always ready to assist you!
Don't let your ticket stress you out or be a drag by taking it with those other boring courses. The class is only $25 and we make it our first concern to give you the best experience possible. Comedy Driving Inc. has been helping drivers like you laugh their ticket away for over 10 years. Isn't it about time you shared the experience?
If you are ready to master your online Florida ticket dismissal course, then sign up now!
Reasons to take Comedy Driving Traffic School
Flexible Schedule
Rush Delivery
Unlimited Log-ins
State Approved
Take Untill You Pass
100% Animated
Free Audio and Video
Free Certificate Download
Live Phone Support
Free Streaming Video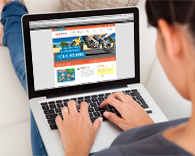 Ready to dismiss your ticket?
Social Share