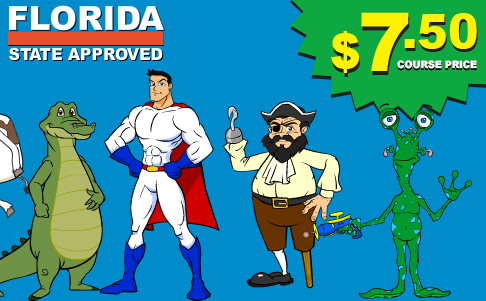 Florida 4 Hour BDI Course
Online Driving Traffic School
Comedy Driving Traffic School's online course is only $25.00, and is all inclusive. There are no hidden fees. The course is 100% animated with free audio, free video, and your certificate will be available for immediate download.
Florida 4 Hour BDI Course
The state of Florida allows for residents or visitors of the state that may have received a traffic violation, an opportunity to have the citation dismissed.  The program is available upon approval and acknowledgement from the county clerk of where the citation was issued.  In other words, to be certain the person can take the course it is strongly advised they contact the county clerk first within 30 days of receiving the citation.
Mostly anyone is available to complete the 4 Hour Basic Driver Improvement Course (BDI), and when the driver falls under the guidelines below the person is said to take the course for "Elected Purposes or "Student Elected."  The other two reasons for taking the course are Traffic Collision Avoidance Course (TCAC) and Court Ordered.
General rules of the "Student Elected Course" include:
The course must be at least 4 hours in duration.

Driver who has not previously taken the course within one year.

A motorist who has not taken the course more than 5 times in their lifetime.

Person that receives a moving violation that would accrue points on their driving history record.
Those ordered to complete the course for TCAC reasons:
Received a letter from the Florida Highway Safety and Motor Vehicles Department that demands the individual complete a 4 Hour BDI Course.

Been in an at fault accident which resulted in a person needing medical attention and needed to be taken to the hospital.

Have had 2 at fault accidents within 2 years that caused damage of property that exceeded over $500.

The person was found guilty of running a red light or stop sign, failed to obey school bus laws by not stopping when their lights are flashing, racing or driving recklessly.
Lastly individuals that are ordered to take the course by a county are simply "Court Ordered."  These individuals simply need to take the course because the county is demanding they complete the course.
After a person completes the course they must submit the information back to the county or the FLHSMV within the given deadline imposed upon the driver.  The time may vary with each county and the, but it usually falls between 60 to 90 days.
If the driver or motorists fails to complete the course within the time given, they will likely have to pay additional fines and risks getting their driver's license suspended.  It is very important that a person that opts to take a traffic course completes it as intended.
Our entire course is 100% animated and videos, which is more animated than any other online course.